HANDBELL MUSIC

Click on a title for demo recording and purchasing information. Paraboloid Press handbell titles are exclusively distributed by Jeffers Handbell Supply.


THE AVENGERS - Silvestri, arr. Ron Mallory - PAHB014
3-6 octaves handbells, optional 2 octaves handchimes, optional percussion; Level 3+
The Marvel Cinematic Universe has delighted moviegoers for more than a decade, and Alan Silvestri's score for the first Avengers team-up movie set a new musical standard for superhero film music. This arrangement for 3-6 octaves uses multiple handbell techniques and optional percussion to capture the adventurous spirit of the original. Sure to be an audience favorite at your next concert!


THE BRIGHTEST STAR - Ron Mallory - PAHB011
3-5 octaves handbells, optional 3 octaves handchimes, optional percussion; Level 3+
Filled with a perfect combination of ethereal chord progressions and rhythmic energy, this original composition will enchant and engage your audience or congregation with its rich counterpoint and chromatic chord progressions. Optional handchimes and percussion add to the tapestry of musical textures.



CONTRAST - Ron Mallory - PAHB015
2 Octaves Handbells or Handchimes, Optional Windchimes; Level 3
This haunting, expressive original composition is reflective of the more somber moments in life, which help us to better appreciate the joyful times. Though written with a 2-octave handbell or handchime choir in mind (with no shared bells), a skillful quartet or quintet could also perform it by appropriately dividing the bell positions.


DISCOVER - Ron Mallory - PAHB012
3-7 octaves handbells, optional 3-5 octaves handchimes, optional percussion; Level 3+
Using chord progressions borrowed from the scores to vintage science fiction films, this original composition is a tribute to the spirit of discovery and adventure embodied by the men and women of the space program. With its blend of soaring ethereal melodies and flowing rhythms, in combination with optional handchimes and percussion, this piece will be an inspiration for both ringers and audience members in any performance setting.


ETERNAL HOPE - Ron Mallory - PAHB002
3-5 octaves handbells, 3 octaves optional handchimes; Level 4+
"Eternal Hope" employs intertwining contrapuntal lines and rich chromaticism to convey a sense of buoyant optimism. A middle section in a minor key implies a time of struggle before returning to a Major tonality for a joyful close. Accessible for advanced choirs or intermediate groups looking for a stretch.



EXPRESSIONS - Ron Mallory - PAHB004
2-5 octaves handbells, optional additional instruments; Level 2+
The third part of a musical trilogy, "Expressions" is a uniquely written piece which includes chord symbols for optional guitar or piano accompaniment, as well as options for adding percussion and melodic instruments such as flute or cello. An enjoyable change of pace for any for concert, worship, or festival setting.



FIDELITY - Ron Mallory - PAHB008
3-5 octaves handbells, 3-4 octaves optional handchimes; Level 4-
"Fidelity" contrasts tender moments with a joyous, malleted middle section to tell a story of a lifetime of faithful love. Written in celebration of the 56th wedding anniversary of the composer's parents, this piece's rich chromatic passages and melodic counterpoint will present an enjoyable challenge for your ringers and a lovely listening experience for your audience or congregation.


FIRST ARABESQUE - Debussy, arr. Ron Mallory - PAHB013
3-6 octaves handbells, optional 3-5 octaves handchimes; Level 4
Claude Debussy's "First Arabesque" is a classic of impressionistic piano repertoire. This faithful transcription for 3-6 octaves handbells and optional 3-5 octaves handchimes preserves the gentle, flowing style of the original.


IF YE LOVE ME - Tallis, arr. Ron Mallory - PAHB009
3-6 octaves handbells or handchimes; Level 2
Renaissance composer Thomas Tallis' well-known motet comes to life in a setting for 3-6 octaves of handbells or handchimes. Performable on its own or with a vocal choir (the arrangement is compatible with most SATB vocal editions), this piece will add an air of dignity to any worship service, concert, or festival.


INTRO TO "ALSO SPRACH ZARATHUSTRA" - Strauss, arr. Ron Mallory - PAHB003
3-7 octaves handbells; Level 2
Originally written as an orchestral tone poem in 1896, Strauss' "Also Sprach Zarathustra" has become inextricably associated with spaceflight since its use in the 1968 science-fiction film "2001: A Space Odyssey." This arrangement simplifies the rhythmic notation for easier learning by beginning- and intermediate-level handbell choirs without diminishing the musical power of the piece.


MOUNT RAINIER TRIPTYCH - Ron Mallory - PAHB001
3-6 octaves handbells, 3-6 octaves optional handchimes, optional percussion; Level 4-
"Mount Rainier Triptych" is a tone poem inspired by the beauty of Mount Rainier National Park in Washington State. It is a three-movement work, but designed so that each movement can also be performed as a separate piece. Using many different handbell techniques as well as optional handchimes, the piece provides wonderful opportunities for musical expression and is ideal for use in concert settings or in church services celebrating the beauty of Creation. Optional percussion part is included with handbell score.



RONDO FROM "HORN CONCERTO NO. 4" - Mozart, arr. Ron Mallory - PAHB017
3-5 Octaves Handbells, Optional 3 Octaves Handchimes; Level 4
The rousing final movement from Mozart's popular Fourth Horn Concerto is faithfully transcribed for handbells using mallets and optional handchimes to evoke the energetic interplay between soloist and orchestra. Provides an elegant classical touch for any concert or worship service.


SPACIOUS SKIES - Traditional, arr. Ron Mallory - PAHB007
2-5 octaves handbells, 2-4 octaves optional handchimes, optional percussion; Level 3-
Expansive sounds contrast with percussive malleted passages and a gentle handchime setting of the tune MATERNA ("America, the Beautiful") to paint a musical picture of the beauty of the American landscape. Optional percussion enhances the musical presentation. Scored for 2-5 octaves, this piece is appropriate for concert, festival, or worship service use.


THEME FROM "STAR TREK: THE NEXT GENERATION" - Goldsmith/Courage/Roddenberry, arr. Ron Mallory - PAHB005
3-6 octaves handbells, 3 octaves optional handchimes; Level 3+
Go boldly with this arrangement of Jerry Goldsmith's famous theme from the classic TV show "Star Trek: The Next Generation" (originally used as the theme for the 1979 film "Star Trek: The Motion Picture"). This arrangement captures the character of the original orchestral score, inspiring your ringers and audience with images of adventure.


TWO BACH INVENTIONS - Bach, arr. Ron Mallory - PAHB006
3-5 octaves handbells; Level 3+
Two of Bach's best-known keyboard Inventions, #13 and #14, come to life in these settings for handbells. Some octave doublings, filled-in chords, and LV's have been added to better adapt the pieces to the handbell idiom, and note values have been doubled to make the pieces more accessible to less-experienced ensembles.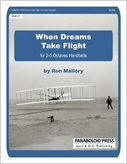 WHEN DREAMS TAKE FLIGHT - Ron Mallory - PAHB010
2-5 octaves handbells; Level 2+
Inspired by the story of the Wright Brothers inventing the first airplane, this piece's soaring melody will inspire your ringers and audience alike. Playable by 2-5 octaves of bells, and accessible to a wide variety of handbell groups, this is a perfect opener for any festival, concert, or other musical setting.



YOU ARE THERE WITH ME - Ron Mallory - PAHB016
3-5 Octaves Handbells, Optional 3-4 Octaves Handchimes; Level 3
The gentle melody of this instrumental adaptation of Ron Mallory's choral work of the same name expresses Psalm 139's assurance that God is with us in all circumstances. Rich chromaticism and optional handchimes enhance the expressive nature of the piece.